Spring has sprung, and with it comes the first major holiday of the season—Easter. But how do people celebrate this special occasion? While some stay indoors and catch up on much-needed sleep, others travel home to be with their families or hang out with friends. And then some crave adventure and are always looking for the next exciting place to visit, especially during Easter.
Since you are part of the last group, you like to visit unknown lands and expand your mind, so we urge you to come to Spain this Easter. Here's why.
For people in Spain, Easter is a big holiday. Not all of them are necessarily religious, but Easter is one of those times in the year when cities shut down and there is a lot of activity. Floats bearing statues and several processions march through the city streets. In Spain, a whole week is dedicated to Easter. They call it Semana Santa, meaning the Holy Week, and underneath all of the traditional Catholic activity, parties are brewing, and there is an Easter scene you want to be a part of.
Malaga
This coastal city, which is the jewel of the Andalusian community in Spain, is the top spot for tourists during Easter. People travel from all over the world to Malaga, not just for the Easter celebration but for the beaches, the food, and the sweet kisses of the Andalusian sun that come with being present in Malaga for Easter. Malaga is a Spanish municipality with everything a traveler could dream of: art, good food, beaches, and culture. For Easter, the Semana Santa dominates the city of Malaga. In typical Semana Santa tradition, brotherhoods from the churches in Malaga don Nazarenos, robes with pointy heads, and make their procession around the city. With them are floats upon which large statues of Jesus and the Virgin Mary are mounted and carried around the city. Some of these statues are over 300 years old and speak to how sacred the Semana Santa is for Malagueños and the rest of Spain. The Holy week lasts from Palm Sunday to Easter Sunday, but after that, the party starts. You can hit the bars and restaurants in Malaga for a lively chat with your new friends.
Sevilla
Sevilla is another city on the Iberian peninsula that has stood for over two centuries. Like Malaga, it has seen Moorish occupations and the Christian conquest and has layers of history around its roots. It boasts of some of the finest architecture as it served as the Moorish capital for several dynasties of their occupation. This is why one of the first things you can do on arriving in Sevilla is to join the walking tour to the Alcazar or the Giralda and behold the intricate architecture whose beauty has defied time. Sevilla is home to many baroque buildings that exemplify that period of human history. If you are coming to Sevilla for Easter, prepare to witness the Hermandad (brotherhood) from 115 of Sevilla's churches and their Pasos as they make their way around the city during the Holy Week. When you hear La Saeta being sung, you will know just how deeply emotive Semana Santa is for Sevillanos.
Granada
From 711 to 1492, Granada was under Islamic rule and was, at one time, the most populated city in Europe as it unofficially headquartered Islam on the Iberian peninsula with two prominent mosques. The city sits at the foot of the Sierra Nevada mountains, having a wide range of temperatures (as high as 40 degrees in the summer with freezing temperatures in the winter). It is not strange to find snow in Granada. But that is where the fun part begins. Granada has the longest skiing season in Spain. It is surrounded by mountains that snow in the winter and sites. Granada is surrounded by mountains that are covered in snow during the winter and are home to the southernmost skiing resort in Europe, the Sierra Nevada Skiing Resort. Mulhacen Peak (3482 meters) is just one of 29 peaks you can reach in Granada if you like mountain climbing. Granada is still a great place to visit, even when it's not winter.
Along with Almería, Granada is one of two cities in Spain where beer comes with free food. Seriously, Granada's tapas are excellent. Their annual tapa festival hones the taste. During Semana Santa in Granada, 33 brotherhoods float the Virgin Mary and Christ throughout the city. Each holiday has at least five processions leaving for different locations, some even leading up to the hills. After each parade, you can kick back and enjoy some of the finest tapas in Spain.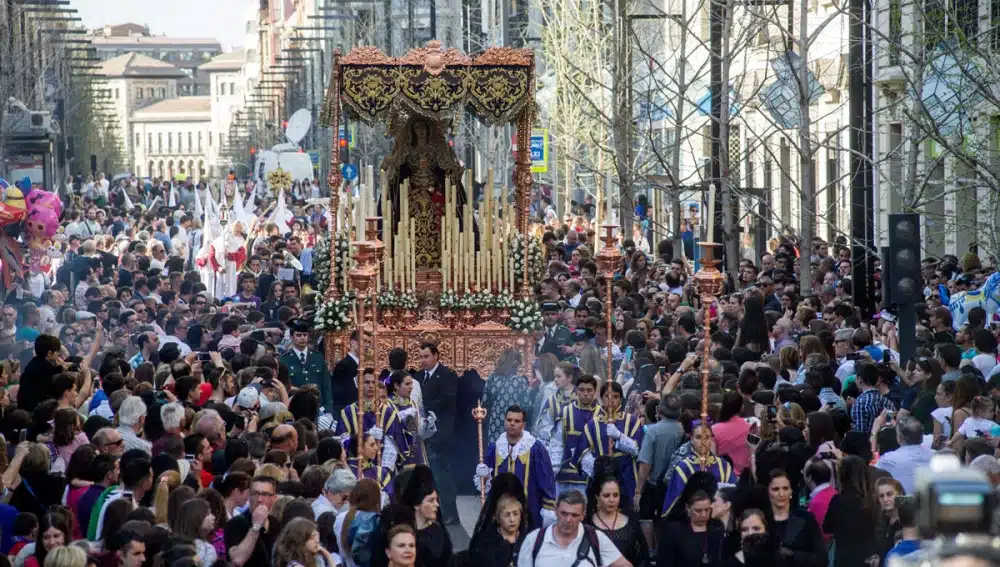 Barcelona
Barcelona is Catalonia's capital and the second-largest city in Spain, with about 1.06 million people. So, you can imagine how interesting Barcelona is. The temperature is warmer, and the mood is livelier. Some of the attractions in Barcelona that you can explore include the Gothic quarter, which holds some of the finest shops and restaurants in the city. Barcelona's El Born district houses its cultural locations, such as The Born Cultural Center and Picasso's museum. The architecture and the La Sagrada Familia church are some of the most picturesque buildings you would ever see. During Easter, Barcelona holds the Semana Santa like every other city, with a few processions moving through the city as is Spanish custom. Other mini-festivals are happening in the small villages around Barcelona as each community has developed its own identity. The Barcelona Flower Festival occurs around the same period, and it is a great place to check out with your kids if you have them with you.
Valencia
Valencia is the capital of its autonomous community of the same name and is one of the oldest cities in Spain, founded by Romans in 138 CE. Perhaps you should travel to Valencia before Easter to join them to celebrate the Falles. The Falles is an age-old festival commemorating the patron saint of their city, Saint Joseph. Valencians build artistic monuments, constructing figures from wax, paper, or wood. These creations can be very artistic and could be depictions of popular people or events. Some are paraded around the city during the festival after months and months of sculpting and painting. This is one of Valencia's biggest street parties. The Easter celebrations in Valencia are pretty unique. Semana Santa is celebrated in its maritime neighbourhood of El Cabanyal. It is similar to the Semana Santa in other places, with processions moving back and forth through the area. Since it is the maritime citizens of Valencia that are serious about Semana Santa, it has been nicknamed Semana Santa Marinera. It offers a refreshing take on the Holy Week.
Spend Easter in Malaga
So now you know that Spain doesn't play around regarding Easter. Where else would you travel to and have the time of your life in Easter? You have got to be there to believe it, especially in Malaga. These cities have got it going on with their unique mix of history, culture, and attractions. Malaga is where it's at for tourists who love the beach and want to sample the best of Andalusian cuisine. Sevilla is a place with some serious history, and Holy Week is an emotional and religious time for the locals. Granada, on the other hand, has got the mountains covered and some seriously great tapas. Then there's Barcelona, the capital of Catalonia and the second-largest city in Spain. It's got tons of cool stuff like the Gothic Quarter, El Born District, and La Sagrada Familia.
You must visit Spain for Easter if you're looking for adventure and an amazing experience. And if you're coming, start with Malaga. We are there for you. The COEO Pod Hostel or COEO Apartments are where you want to get the whole Semana Santa experience when in Malaga. After Semana Santa, you can stay for a couple of days and enjoy COEO's salsa nights, volleyball, tours around Malaga, and many other fun activities that go down at COEO House. Let us show you around the best city in Andalusia this Spring.