Picture this! You have just graduated from college and you want to move on to the next phase. You have spent half a decade in school, seeing the same people, walking between the same walls, and learning one type of thing every day. You want to blow off some steam, right? Take a short break before you start job hunting (or joining the family business like some of us). The best way to do this is to see the world. To journey around the country, another continent even, and see what the sun is like in places a thousand miles away from where you are. You looking for a great city brimming with life, new adventures, and experiences to revitalize your life?
Is this you?
Well, keep searching, you will find one. But if we have anything to say about it, we will introduce you to one of the most beautiful places in the world, and arguably the world's best destination in the winter that could stop your search entirely.
We want to tell you about Malaga in 17 quick facts. Are you ready?
Here come 17 cool facts about Malaga
1. Malaga is the capital of the province of Malaga
It is located in the southern region of Spain, known as Andalusia. Andalusia is perhaps one of the most interesting autonomous communities in Spain. Known for its great lifestyle and culture, this region is one of the richest cultural centers in Spain. And Malaga is a huge part of that. It also has the best beaches in the whole country.
2. It's the sixth-largest city in Spain,
With a population of over 570,000 people. Malaga's population is far above the average population of the provinces in Andalusia. This speaks volumes about the amount of tourism that Malaga gets. People like to live here.
3. Malaga is famous for its beautiful beaches
With the most popular being La Malagueta, Pedregalejo, and El Palo. These beaches open into the Mediterranean sea and bless its visitors with views of the finest seafaring ships in Europe.
4. Malaga has a long and rich history
Dating back to the Phoenicians in 770 BC. From when it was called Malaka and served as a port of trade for civilizations along the Mediterranean, Malaga has been in human use for over 3000 years. People have always been there. The discovery of the Caves of Nerja, within the province of Malaga pushes this date back to 42,000 years. Inside these caves, you can find some of the oldest works of art done by humans.
5. Malaga has been ruled by many different civilizations
Including the Greeks, Romans, Moors, and Christians. Each of these civilizations left an indelible mark on Malaga. This is why Malaga has layers upon layers of culture. From the seaport positioned by the early Phoenicians to the remains of the Teatro Romano, the Moorish architectural influence, and the celebrations of the Christian conquistadors, Malaga is one perfect place for a student of world knowledge to be in.
6. Malaga has one-armed lady
The Malaga Cathedral, also known as"La Manquita," meaning "the one-armed lady," is one of the city's most iconic landmarks. It was built between 1528 and 1782 and has only one tower, hence the nickname.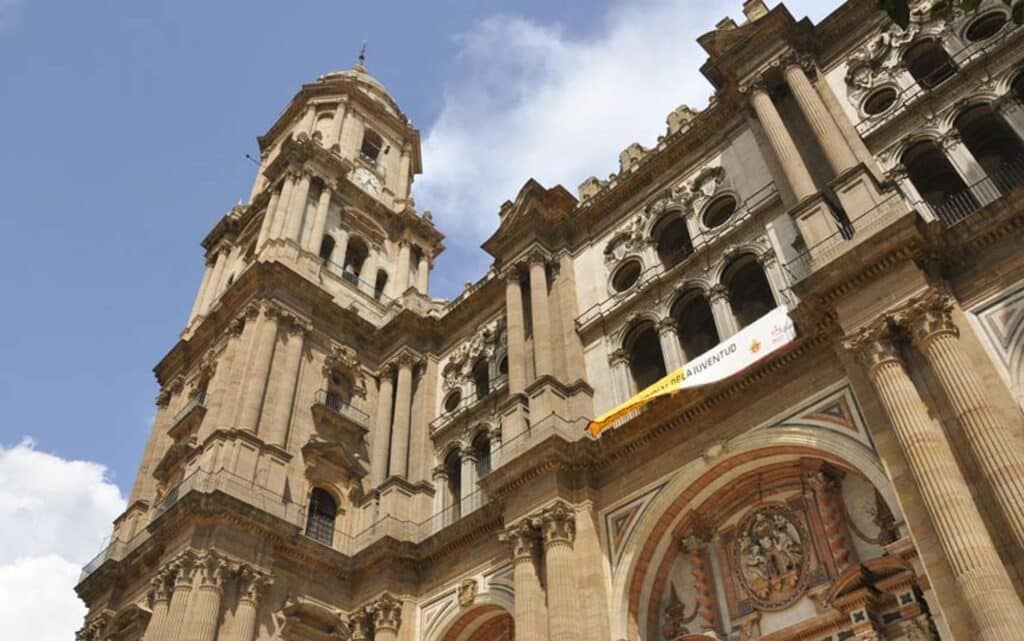 7. Malaga is the home of Pablo Picasso
Picasso, one of the most renowned artists of the 20th century, was born in Malaga in 1881. You can visit the Picasso Museum to see some of his most famous works. It is our opinion that maybe the geniuses behind the drawings in the Caves of Nerja helped to inspire young Picasso when he was starting out.
8. The food is great
Malaga is known for its delicious food, including the famous fried fish, known as "pescaíto frito," and Malaga's most popular wine, the "Cartojal." The Cartojal is especially iconic as you can find its pink-labelled plastic bottles all over the Malaga Feria. A glass of Cartojal, chilled to 6 degrees, is exactly what any relaxing afternoon in Malaga needs.
9. The Alcazaba of Malaga
The Moorish fortress dating back to the 11th century is another must-visit attraction. It's located on a hilltop overlooking the city and offers stunning views. It was built during the Moorish occupation of Malaga and displays some of the most beautiful architecture you would ever see in Andalusia.
10. Malaga has a citywide fair
The Malaga Feria is a week-long celebration that takes place in August and features flamenco dancing, live music, and plenty of food and drink. It also features a procession through the city with several dancers. Day or Night, you are sure to find fun and enjoy yourself through the Malaga Feria.
11. Malaga has a decent winter
Malaga has a Mediterranean climate, with mild winters and hot summers, making it a popular destination year-round. To put it in perspective, Malaga has arguably the best winters in the world. With temperatures averaging 17 degrees in January, the coldest month of the year. It is just cold enough to wear a sweater and settle down with a good book or movie and warm coffee
12. Malaga Airport is full of international activity
The Malaga Airport is one of the busiest airports in Spain, with flights to and from destinations all over Europe. And this makes Malaga very easy to travel to at any time of the year. 156 airports from around the world fly directly to Málaga, from 137 cities in 37 different countries. Just look at this screenshot from flightconnections.com
13. Malaga has a very well-stocked central market
The Atarazanas Market is a bustling indoor market that sells fresh produce, meat, fish, and other local goods. There is quite a lot of food here. Malaga used to be a trading port and the amount of produce you can find in the Mercado de Atarazanas is globally astonishing. It is also a great place to immerse yourself in the local culture and see the roots of street cuisine in Malaga.
14. Malaga is home to many museums
Including the Carmen Thyssen Museum, which features a collection of 19th-century Spanish art. The Picasso Museum is an excellent place to visit and witness the lifetime work and legacy of Pablo Picasso, Malaga's own art hero.
15. Malaga has a natural park
Malaga is surrounded by stunning natural beauty, including the Montes de Malaga Natural Park, which is home to a variety of flora and fauna. Sitting in Andalusia, the most fertile place on the Iberian peninsular, Malaga is also home to two-thirds of Spain's local fauna.
16. The Port of Malaga has outlived civilizations
Till today, the port of Malaga is as busy as ever. It has been fitted with state-of-the-art infrastructure as well as commercial areas. It is also a passenger port, with ferries departing to destinations all over the Mediterranean. It has of course come a long way off from when the Phoenicians occupied it.
17. Malaga has a theater that is 2000 years old
The Roman Theatre of Malaga is a well-preserved Roman amphitheater that dates back to the 1st century AD. It's located at the foot of the Alcazaba and is a testament to the city's rich history. Plays are still put on there from time to time for people to relive what was once the height of Roman theatre.
Malaga is a city that has something for everyone, from history buffs to beachgoers to foodies. With its rich cultural heritage, stunning natural beauty, and vibrant atmosphere, it's no wonder why it's such a popular destination.
We hope you are 17 steps closer to your decision to travel to Malaga this spring. For emphasis, it is Spring! The weather is just warming up and the beaches are going to be fresh. Fortunately, COEO has apartments and aparthotels in Malaga city center that make it easy for people who visit to see Malaga's attractions. For travelers looking for more human connections, our pod hostels are the best option. They are quite affordable for travelers on a budget too.
See How To Choose the Perfect Hostel in Malaga
What is your favorite thing about Malaga in this article?