If you are travelling in a group or you are going on a family getaway, Coeo has it all for you. For we offer much more than just a simple accommodation in Malaga. In fact, both our hostel and our three aparthotels in the centre of Malaga are the ideal choice for you to live a perfect experience in this city that, as Coeo, offers you multiple possibilities.
What you will find at Coeo
A variety of options
With three aparthotels and one original pod hostel, Coeo provides you with a possibility to choose the accommodation in Malaga that better suits your group needs. Moreover, all our properties are within walking distance of each other. This ensures that even if your group is very diverse and everyone wants something different, you can all be comfortable in the accommodation of your choice, but always close to each other.
Coeo Pod Hostel, Fresca Apartments Hotel, Peña Apartments Hotel and Parras Apartments Hotel. These four accommodations in Malaga are our four proposals for you to live a tailor-made experience with your family or group of friends. A hard choice 🙂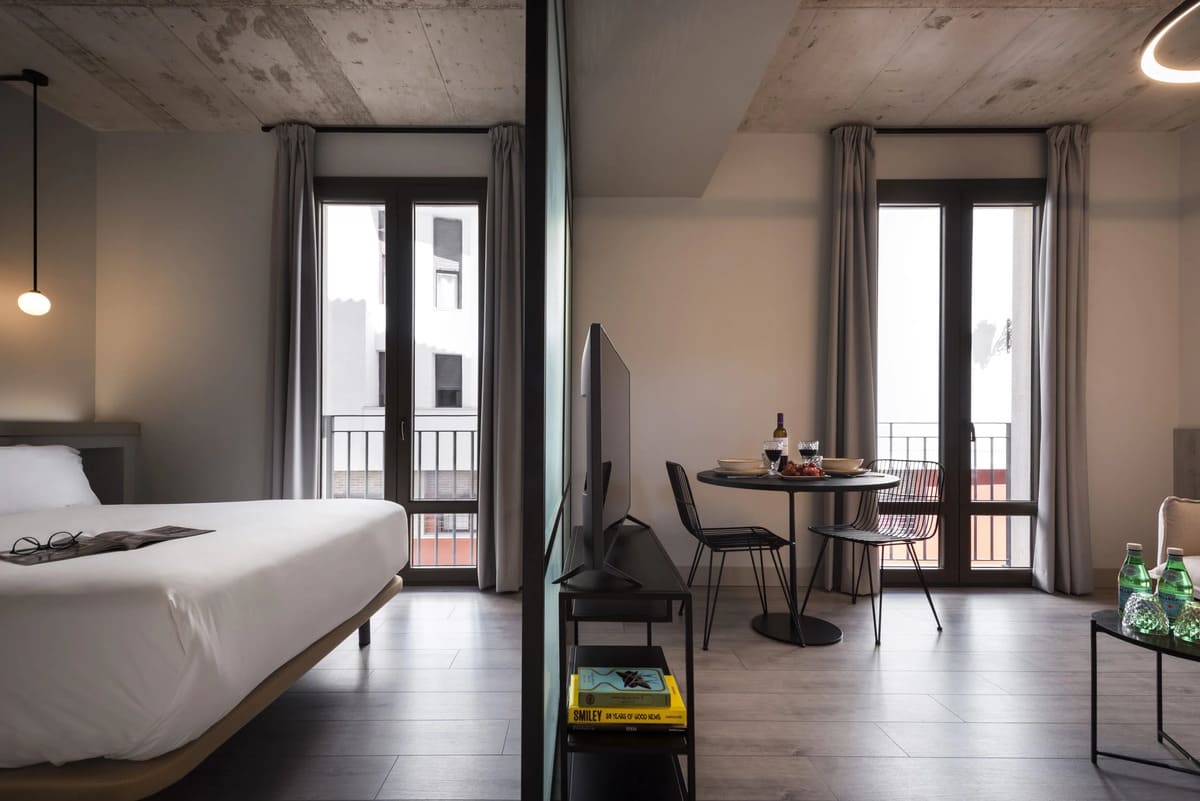 Flexibility room choice
Coeo Pod hostel and our aparthotels offer a range of room configurations to suit different group sizes and preferences. Families can find the adequate apartments among our three options, but also in the family room with a private bathroom available at our Pod hostel. Meanwhile, if you travel with a group of friends, you have the choice to sleep in single pods, double pods or even in our hotel family room in case you wish to share all the time together. Our spacious apartments are a good option as well, as long as your group is relatively small.
Anyway, it makes little difference what you choose, as it is sure that everyone will have a comfortable place to rest after a long day full of amazing experiences in Malaga. Stay in any of our apartments, or in our hostel pods, but feel welcome to share the great ambiance we have at Coeo Pod Hostel. We are waiting for you with a welcome drink, a lot of fun activities and a local community of travellers wishing to share unique moments.
The best location
When we say that our accommodation in Malaga has the best location, we mean it indeed. Both our three aparthotels and our pod hostel are within walking distance of the city's most popular attractions.
Right in the historic centre of Malaga, your group will be close to the most emblematic monuments, the most popular bars and tapas bars, the busiest shopping streets, etc., and also within walking distance of the city's main beach, the beautiful La Malagueta beach. Can you imagine stepping out of your accommodation and finding yourself right in front of the fantastic Cathedral or the iconic Atarazanas market?
Convenient amenities and features
Our different accommodations in Malaga offer a range of convenient amenities that can enhance your stay. Our pod hostel includes features like luggage storage, front-desk assistance, and communal spaces, as well as a bar, for relaxation and socialising.
Fresca, Parras and Peña Aparthotels, meanwhile, combine the comfort of home with hotel services, such as a full kitchen with all the necessary kitchenware, and room cleaning upon request. Of course, free WI-FI is available in all Coeo properties. Regardless of whether you choose the hostel or any of our apartments for your group or family, you will enjoy a hassle-free experience.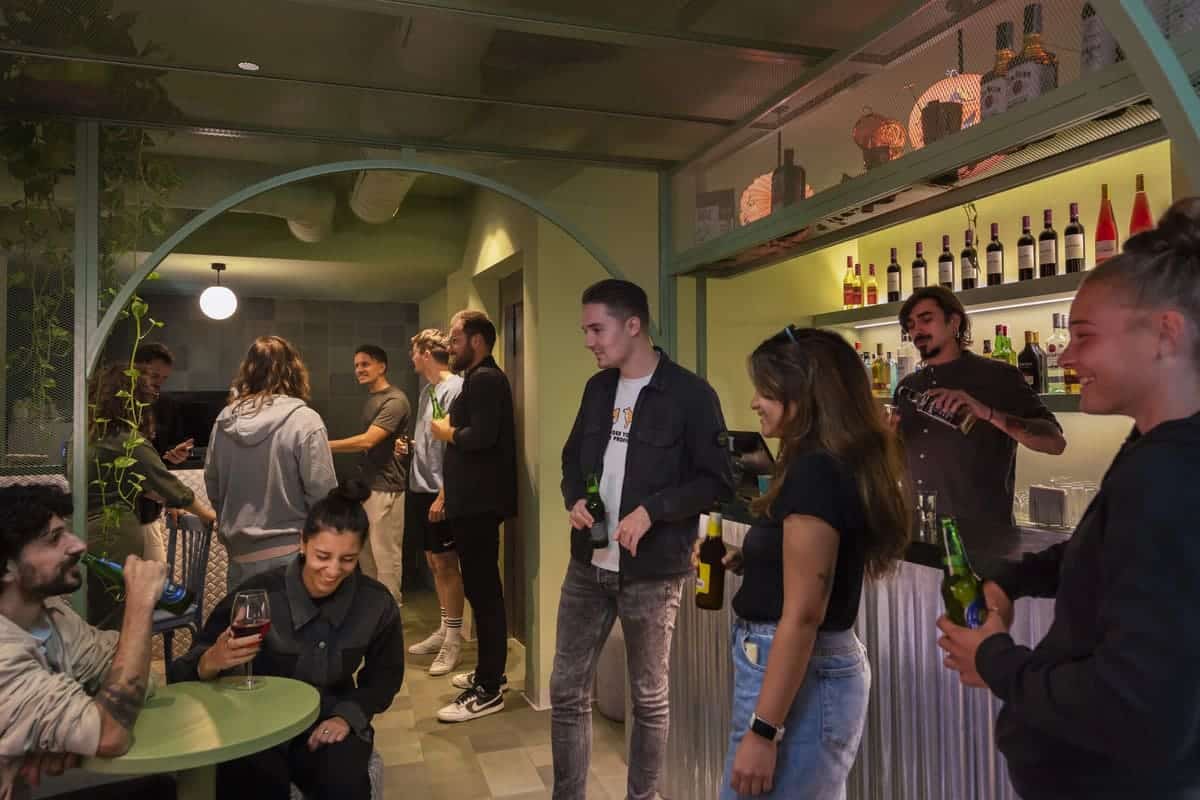 Social atmosphere
In general, hostels are renowned for their social atmosphere, making them an excellent choice for groups looking to bond and meet other travellers. Common areas and organised activities provide ample opportunities for interaction, fostering a sense of community.
And this is exactly what we are at Coeo, a local community of locals coming from everywhere in the world who are willing to share the best life experiences with other travellers like you. Choose your favourite accommodation in Malaga among our three aparthotels and our pod hostel, and then join us at Coeo Pod hostel's bar to experience the best atmosphere and enjoy amazing moments with your family, your group, and your new friends.
Customised experiences
Apart from the wide range of activities we organise for all our guests at Coeo, if you are travelling with a group of family or friends, we provide you with customised experiences in Malaga or beyond the city. In addition to the accommodation choices we offer you, at Coeo we can tailor your stay to meet the unique needs and preferences of your group.
Starting with our usual social activities, you have to know that we offer a variety of leisure possibilities for you to enjoy. From salsa lessons on the port to yoga sessions by the beach, as well as practising some sports in groups or enjoying a walking tour in the city centre with tapas if you're up to it. In case you travel in a group of nine people or more, then the possibilities can be customised to suit your needs in Malaga or in the region. Visiting Nerja, trekking in the famous Caminito del Rey, spending half day in the El Torcal de Antequera… The options are endless.
·coeo·
Will you join us at Coeo?
Find the ideal accommodation in Malaga for your family or group of friends…
And get ready to live an amazing experience!